by Micah Hart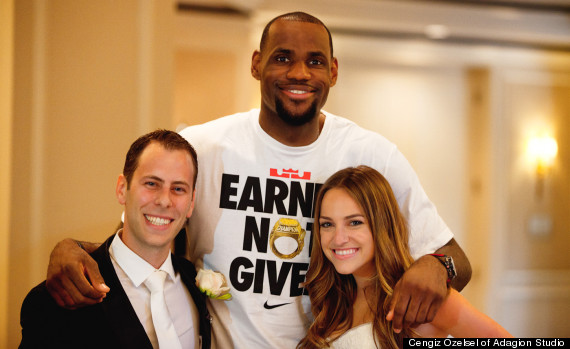 Everyone who gets hitched hopes to have a wedding weekend that will provide lasting memories for the rest of their lives. For most people, that means sitting through embarrassing toasts and stuffing cake in each other's mouths. For others, that means snapping a quick pic with the newly-crowned King of the NBA LeBron James.
From the Huffington Post:
The NBA champion of all of two days happened to be meeting a Sports Illustrated reporter at the Ritz Carlton Coconut Grove just before Kolnick tied the knot on the property, and the Miami native and new husband Shaun were able to snag the pre-wedding snap of a lifetime — never mind that eager onlookers uploaded cell phone photos of the bride to Facebook before she'd even walked down the aisle.
I love that this took place before their wedding began. Having been to many a wedding myself (including my own), all I can think about with this story is how angry the wedding planner must have been at the disruption to the meticulously-crafted wedding plan. BRIDESMAIDS MUST WALK DOWN THE AISLE AT 6 P.M. SHARP! GET THIS TALL MAN OUT OF THE WAY!
I wanted to hate this couple at first, then I read further into the story and found out they met at the University of Texas, so we're all good. Congrats Shaun and Jamie!
Seen something that belongs on All Ball? Let us know via email or Twitter.